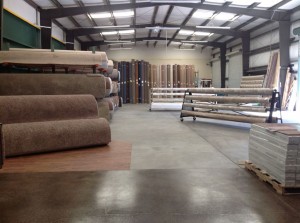 Since 1986 Big Foot Carpet has been serving customers throughout Northern California. With four locations, Big Foot Carpet offers the largest selection of "in stock" flooring in the area.
Big Foot Carpet is a family owned business. Although, unlike so many family run businesses, we have our eye on the big box competitors. Everyone would like to support their neighbor, but in today's economy price is a major factor, and we recognize this. We not only want you to buy from us because we are local, knowledgeable and have great service, but also because we have the best price. We never want to hear "we liked you guys, but we found it cheaper somewhere else." So our goal is to make sure that we never hear that you found it somewhere for less.
To accomplish this, we are always searching out the best deals. Sometimes it may only be four or four rolls that are 75% off, or it may be a truckload of one particular special. If we buy it right we can sell it to you for less. This has always been our mode of operation at Big Foot. This has allowed us to not only compete, but to beat the big box stores. When we buy by the truckload we not only guarantee that we are paying the lowest price, but we save a ton on shipping. This is what gives us a huge advantage over our competitors and guarantees that you are also paying the lowest price.
Contact Bigfoot Carpet Today
We'll Beat any Local Flooring Quote!