Bigfoot carpet has been family owned and operated in the valley since 1986, serving our valued customers with premium discount flooring and professional flooring installation. By buying merchandise by the truckload, we get the best prices and keep a large selection of flooring in stock throughout our four California locations.
Conveniently located on Broadway just off the highway, our Salida Bigfoot Carpet location is easy to find!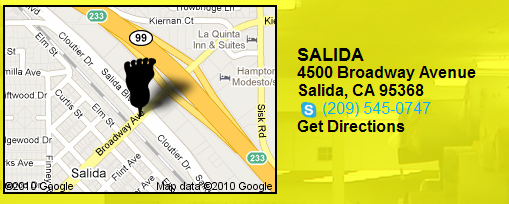 STORE HOURS
Saturday 10am – 5pm
Monday/Friday 9am – 6pm
Areas we serve from our Salida location: 
Salida CA
Ripon CA
Oakdale CA
Manteca CA
French Camp CA
Tracy CA
Patterson CA
Turlock CA
Stockton CA
Bigfoot Carpet in Salida serves all our surrounding cities, towns and counties! From our local towns in Stanislaus County all the way up to San Joaquin County, we are ready to go the extra mile to provide you with the best professional flooring installation in the area.